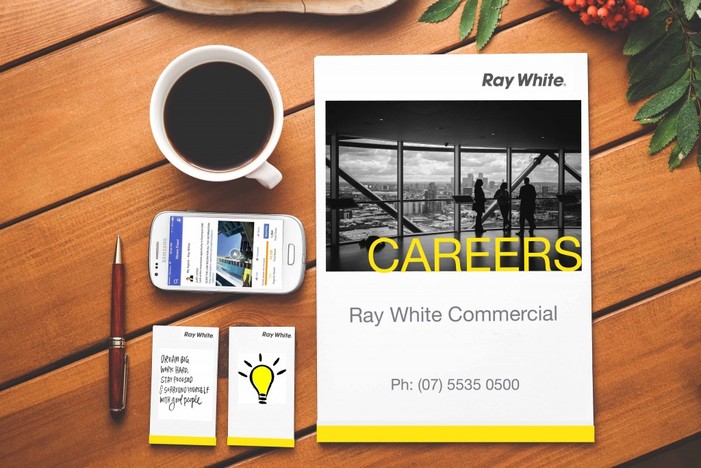 "You will either step forward into growth or you will step back into safety" – Abraham Maslow
We choose GROWTH!
Welcome to Ray White Commercial, part of the larger Ray White GC South Network, a proactive, constantly evolving and driven real estate team. Whether you are just beginning to think about becoming a commercial real estate agent, selling or leasing on the incredible Gold Coast, or you are already established in the industry; you will never regret taking the next step if you join the team at Ray White Commercial GC South.
WITH SO MANY REAL ESTATE AGENCIES, WHO SHOULD YOU WORK FOR?…
We know that you have multiple options when selecting a real estate office to work from, and then you have multiple options of companies and brands as well, this is why Jared Hodge the owner of the Ray White GC South Network and Ray White Commercial GC South regularly asks himself;
'How easy would it be to poach my staff?'
This question drives him to continually improve and perfect the support and systems that he can offer his team. Once an agent settles in, they never want to leave.
REACH YOUR HIGHEST EARNING POTENTIAL
A successful real estate company needs streamlined and time efficient systems, so the agents can be out doing what they do best, listing, selling and leasing. This ultimately results in your highest possible earning potential and job satisfaction. It is also a vital part in the success of a real estate company as a whole. Ray White GC South Network is experiencing incredible growth, within a very short time frame. This is easily traced back to the importance placed on providing unbeatable support to our agents.
BEHIND EVERY SUCCESSFUL AGENT, IS A HAPPY ADMINISTRATION TEAM
We provide training and support to help you excel in your chosen career, whether your path is Administration, Accounting, HR, Marketing or Media. When you find the area of the company you excel in, we will actively help you with the right training and support to fulfil your potential. We believe utilising everyone's natural skills and abilities results in both a long and rewarding career for you and continued success for the company.
SUCCESS IS CONTAGIOUS
We strongly believe that creating a positive team environment to work in, is a key ingredient to success.
Surrounding yourself with positive and successful people is motivating and inspiring and helps to create a determination and drive within your own career. Working in one of the Ray White Commercial GC South offices gives you the opportunity to work within an environment of success.
PICK UP THE PHONE NOW
You will never regret beginning your career with the Ray White GC South Network.
Contact our Recruitment Officer today on (07) 5535 0500.